Why don't you begin by telling your background story.
– I was born in 1976 so I'm currently 42 years old. I grew up in Stockholm with a single mother and a sister – my mother is an artist and quite frankly a lot more artistic than me. I started my artistic career as a teenager, with graffiti. It's pretty common for tattoo artists today to have that background, maybe it's the same feeling of being part of a subculture. My love for tattooing actualy grew on me. A friend of mine, another graffiti artists, started tattooing. I used to hang around his studio and eventually I became his apprentice. Many tattoo artists decided what they wanted to be at the age of five. For me the thought didn't occur to me until my late teens.
When did you become a professional and what studios have you been working in?
– I started my apprenticeship for Patrik at Circle Tattoo in 1996 and remained until 2001. Me and my wife Synnöve have traveled a lot and after a long trip we decided that I should try to do something on my own. So I've owned and ran King Carlos Tattoo at Sankt Eriksplan in Stockholm since 2002. We've had some lovely years, but now we've decided to sell the studio. Me and my friend Leigh will keep working there until the right buyer comes along. I will change the pace of my career, travel more and do conventions and guest appearances. Maybe that's part of the reason why Cheyenne chose to become my sponsors. I will be more visible after having stayed in my basement at Sankt Eriksplan for sixteen years.
We'll get back to Cheyenne in a minute. But first: what inspired your present style?
– I started tattooing during the great tribal era. The Red Hot Chili Peppers and tribal bracelets, the movie "From dusk till dawn" with George Clooney's tribal covering his whole arm and reaching his neck. So I did loads of stuff like that. Then there was no Internet, not like today, your only source of inspiration was tattoo magazines. I know that I was fascinated by the Asian style very early on, and still consider it to be the optimal use of body parts. Still, I can find it a bit hilarious that I, as a Swede, am sitting there tattooing other Swedes Japanese style. If you turn it around: if we went to Japan and saw a Japanese person tattooing another Japanese person with Viking motifs, we'd laugh a bit: "Why are you doing this?" But I can't help myself. I love this style and these last few years I've been trying to get more to the bottom of doing this correctly, really doing my homework.
Do the Japanese think you're good?
– I really haven't asked and nobody has said anything. Well, I was just in Berlin and brought this up with a couple of Japanese people, and made the Viking motif comparison. They laughed and said "yeah, you're right there." But they both really liked what I do, so I don't know. I have some Japanese followers on Instagram so apparently they like it as well.
You're currently being sponsored by the German tattoo-equipment company Cheyenne. I've heard it said that their stuff only works for realistic tattoos, but you for one seems to manage using it for Japanese style tattoos.
– Ha ha ha! I started using Rotary machines six or seven years ago because it meant less maintenance, so to speak. I found it so damn off-putting tinkering with machines, and never really learned to use a Coil machine really well.
Which of Cheyenne's stuff, more specifically, do you normally use?
– For these four years I've been using the
HAWK PEN
– for lines, shades, everything. I only use their
disposable grips
, one inch. It feels rather great to go with disposables only. There's nothing to sterilise so I'll be selling my autoclave. For outlines, I've just started using the round shader
cartridge
system. I think it creates a better flow and makes the lines more even. For coloring I mostly use the 15 Magnum, occasionally 13, and 23 for lines and shades. It's a strong piece of machinery, and it runs evenly. The main difference between a Coil machine and a Rotary machine, is that with the Rotary you need to feel more with your actual hand. The HAWK PEN always hits the bottom, and the bottom is rather hard, so I have to accelerate it and apply a lighter touch to achieve even shading and such. And it feels damn great to be rid of that obnoxious noise. I can put music on, I can talk to the customers – it creates a lovely working environment.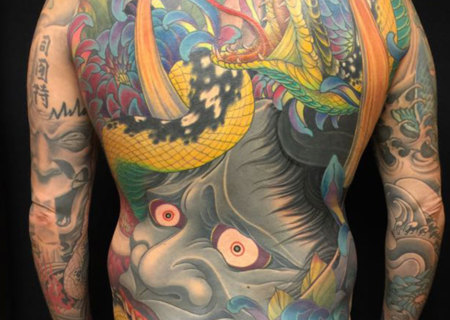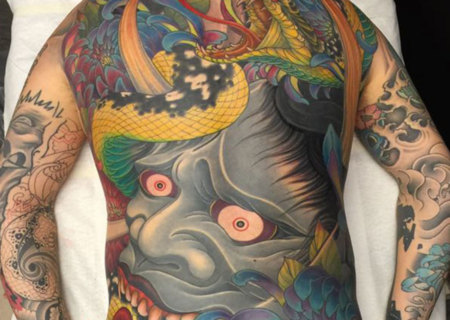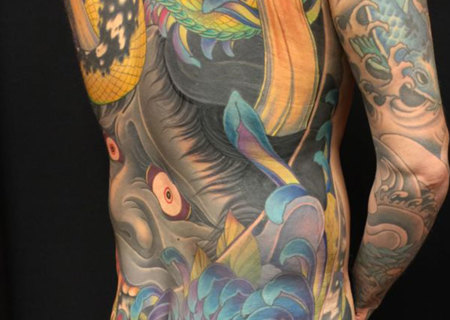 What favorites do you have among your own work?
– I'm never 100 percent satisfied. But I think that's important to keep you striving to always improve. My biggest critic is myself. My wife will come in while I'm drawing and say "that's just great, use it", and I'll respond "no, it's not good enough" and do it all over ten more times.
At first I thought Rotary worked great for colors, but maybe not so great for shades. Then I recalled a trip to Indonesia when I saw a guy sitting there doing tattoos with a reconstructed aquarium pump, electric razor or whatever, and one single needle. And he did shades that were all but not perfect. That made me feel like it wasn't so much about the equipment, as learning to work with the equipment you've got. What I found so appealing with Cheyenne was their cartridge system, being able to attach needles and only use one machine. So four years ago I started using that and this last New Year I got the opportunity to be sponsored by them. I visited their factory and was mighty impressed. I saw how they threw away any needle that had even the slightest defect – 500 000 euros' worth of needles every year that weren't sold to retailers because they weren't good enough. I'm proud that they would want to sponsor me, and obviously you can use their stuff for Japanese. Because I do! And so does Shige.
Yes, Shige, the Japanese tattoo titan who you were teamed up with at Berlin Tattoo Convention this August. What was that like?
– It was awesome. I've known him for four or five years and what could you say about him? He's the best, so I felt truly honored.
Have you received many awards?
– I used to do a lot of competitions at the very beginning of my career, I think that's important for making people go to you before you've made a name for yourself. But I think it's hard to compete in music and art, what's good is up to the beholder. Something I appreciate about Instagram is that I find loads of tattooists who are insanely good without being famous, and there they get the same recognition without competition. I'm somewhat against competitions, to be honest. Everybody has a choice, but I would never ask a customer to compete using my work. I do understand that a convention needs to offer its audience more than just going around watching people get tattooed, but I still find competing a bit weird. It may even be dangerous. Suppose that I've done a sleeve on you, that you're very pleased with. Then you enter a competition with it, and may not even get third prize. If you're not very strong mentally, you may think that "maybe my tattoo isn't so good after all."
What do the tattoos on your own body mean to you?
– I have a family tattoo with all our names. Then it obviously is fun having tattoos by people you like. But for me tattoos are more about art, me finding it beautiful, than it meaning anything. If I look in the mirror it's like a little history book on myself. For instance, if I look at my left arm I remember when me and a friend went to see Filip Leu in Switzerland. But meaningful in any other way – no, it really isn't.
What do you do when you're not working?
– The year I turned 40 I realised how important it is to take care of your body so these days I do a lot of personal training. Tattooing has given me serious back problems and I may have to get surgery within a year or two. I urge all new tattoo artists to look after themselves before the problems start. I really don't have that much time to spare for anything else. I have three children and my life consists of my family and my work.
Any other plans for the future?
– My dream is kind of coming true as it is. I'm really pleased with my career, I've had a lovely studio with some lovely people. But I may have had a minor midlife crisis and realised that I'd had it with being afraid ot things that I really wanted to do. Now I will be going traveling, do loads of conventions, meet tattoo artists who I look up to just to learn and get better. And I have to say: when I first started I was one of the youngest tattoo artists in the country. I'm not anymore, and I don't want to turn into that grumpy old man who's always saying it was better in the past. I always try to embrace and learn things that are new. I've got myself an iPad – it's not going that well, to be honest. But I'm really very excited that I don't have to tinker around with machines anymore. That's absolutely wonderful.